Modern kitchen appliances offer a wide variety of sleek designs, sizes, and finishes to blend in with your kitchen decor. Many appliances use "smart" technology, with microprocessors and electronic sensors, to give their users the optimum cooking experience. Some innovative refrigerators and dishwashers are designed with pull-out drawers instead of doors! A notable trend is the use of commercially-styled or commercial-grade appliances in high-end kitchens. Every year, there is a broader and more sophisticated variety of small kitchen appliances from which to choose.

Basically, a kitchen appliance is a human energy-saving device that uses electricity or gas energy to perform some common kitchen or cooking task. In the kitchen, appliances are used to refrigerate food, open food containers, chop and blend food, cook foods and heat beverages, and dispose of food scraps. There are a large number of appliance brands and models vying for the consumer's attention, so the kitchen appliance market is very competitive. If you are considering a kitchen renovation project or an expensive appliance purchase, you may first wish to read the Consumer Reports appliance reviews.

Appliances can be classified as major appliances or small appliances: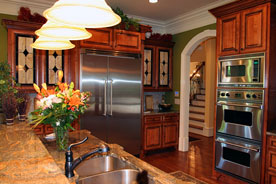 Major kitchen appliances are sometimes built-in. They include refrigerators and freezers and cooking appliances such as ranges, ovens, and cooktops, as well as near-the-sink appliances such as dishwashers, trash compactors, and disposal units. Selecting the major appliances for your kitchen requires careful analysis of your needs before you shop. New appliances are a major expense, and with all the dazzling features on today's models, it is important to select models and sizes that fit your family and lifestyle. After all, some of these appliances have a life expectancy of 15 years or more! Not only do you want to select models that fit your kitchen style, but also those that meet your level of gourmet expertise. Consumers want appliances that are practical, fashionable, and energy efficient. Furthermore, cooking shows have contributed to homeowners' desires for pro-chef level appliances. As a result, manufacturers are offering pro style appliance lines, safely modified for those who aspire to be gourmet chefs at home.

Small kitchen appliances are usually portable. They can make everyday life easier and more convenient, whether it's cooking food in a college dorm, brewing coffee at the office, or preparing a meal after a busy day. Small appliances include coffee makers, blenders, and food processors as well as mixers, toasters, and can openers. There are styles and colors to suit every kitchen and a wonderful variety of appliances to cook everything from popcorn to pizzas. Just as with major appliances, pro-look small appliances are a popular choice.
KitchenAppliances.us features convenient access to several appliance dealers and appliance manufacturers. Visit these kitchen appliance manufacturer websites to browse through appliance specifications and photos, and to research the latest kitchen appliance trends. When selecting kitchen appliances for a new or remodeled kitchen, list the appliances you need as well as those you would like. Establish your budget, then purchase the appliances that will most help you store, prepare, and cook food — and clean up your kitchen afterwards. Enjoy your online shopping experience and come back to visit us again!
Shop for Kitchen Appliances
Large Appliances


Find major kitchen appliances such as dishwashers, stainless steel cooktops, ranges, and refrigerators at the Universal Appliance and Kitchen Center.
www.UAKC.com
Kitchen Appliance Manufacturers
Kitchen Appliance Consumer Information
Related Kitchen Websites
---
Copyright 2003-2023 Zeducorp.
All rights reserved.
About Us
.
Contact Us
.
Search
.
For your convenience, certain links will open in new windows.
Kitchen Appliances - Kitchen Appliance Information
Recent Kitchen Appliance News
5 most wished for air fryers on Amazon
These five most wished-for air fryers are on sale on Amazon. Grab one and start seeing why everyone can't stop talking about this kitchen appliance.
Wls. ABC News. Wednesday, 20 Sep 2023 15:03:20 +0000.
Thermomix kitchen appliance maker relocating corporate headquarters to Dallas
The California exodus of companies continues. This time, a manufacturer of Wi-Fi-connected kitchen appliances plans to move its corporate headquarters to Dallas-Fort Worth.
Bill Hethcock. American City Business Journals. Friday, 25 Aug 2023 22:17:00 +0000.
---